THERAPY FOR DEPRESSION AND BIPOLAR DISORDER
The symptoms of depression or bipolar disorder can feel overwhelming. At times it can feel frightening - not understanding what's going on or why. It can be a lonely, isolating experience, where it seems other people's lives are carrying on normally, while yours has become extraordinarily difficult. It can drain your energy, hope and drive, making it difficult to do what you need to to feel better.
With therapy and a commitment to change, it is possible to experience long periods of wellness. With good coping skills and a solid support system, you can live fully and productively and keep your symptoms in check. You can experience a sense of relief and a renewed sense of hope for the future.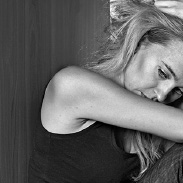 My name is Louise Fisher, I'm a counsellor and psychotherapist, and I am passionate about working with people suffering from depression and bipolar disorder. I see private clients and I run a depression and bipolar therapy group, at my counselling room in Potts Point.
If you would like to discuss your situation, or make an appointment, please phone 0410 651 201, or send me an email: louise@mylifeworks.com